This past December, my husband and I decided to take advantage of our brief time off before moving to Seattle and embark on a two-week adventure in Europe. Going overseas was something I've always wanted to do, and although it was something we planned on doing eventually, this was kind of an impromptu vacation.
We reached out to our travel agent in Minneapolis and started planning a route in Europe. We originally planned to visit about 4 or 5 countries on our own, traveling via train and staying in hotels close to the touristy parts of the cities. We had the dates picked, the countries plotted, and were in the middle of finalizing our hotels when we started questioning our plan. We knew we only had two weeks and we wanted to maximize our time in each place. We started wondering how much time we'd spend trying to navigate to the train station, trying to communicate with locals whose native language wasn't English, and just trying to figure out how to get around in general. It was then our travel agent recommended looking into guided tours.
I wasn't familiar with the concept, but after a brief discussion, I realized this was the way to go. To summarize, we would join a pre-planned trip, travel with a group of people via bus throughout Europe, and be accompanied by a travel director at all times, who would get us to where we needed to be and manage all the details. I instantly felt my concerns about our first trip plans melt away.
We decided to book the European Whirl guided tour with Trafalgar, which consisted of visiting 8 countries in 15 days. We knew this would be a very busy trip (and it was!) but we were excited about maximizing our trip overseas and seeing as much as we could in a short amount of time. As you can see from the map, our itinerary was packed full of travel!
We took an overnight flight from Minnesota to London and arrived mid-morning. I planned on sleeping for a large portion of the flight, but it turns out that sleeping in coach with very little leg room is quite difficult. Needless to say, when we arrived in London, we were extremely tired and eager to get to our hotel.
We took a 30 minute, expensive cab ride from the airport to our hotel, The Cumberland, and quickly realized it was too early to check into our room. Thankfully, we were able to drop our luggage off at the hotel before venturing out to find some coffee. We stopped at Patisserie Valerie for lattes and scones with butter and jam. I was such a zombie that I don't think I fully enjoyed it, but I remember the coffee was great.
Once we were able to check into our room, we ended up crashing for several hours before going for dinner. We found a place on Yelp called The Grazing Goat and decide to check it out. My dinner was incredible; I had the quinoa and potato croquette with poached duck egg, crispy kale and goat cheese. My husband and I shared the cappuccino brûlée for dessert, which was essentially crème brûlée with a hint of cappuccino flavor. Yum!
A funny story: we overheard someone at the table next to us talking about Amazon, so my husband, being the extrovert that he is, introduced himself. Turns out she was from Seattle and was in London for business. What a small world!
The next day was the first day of our actual tour. Although we weren't yet with the entire group we'd be traveling with for the next 15 days, we toured London via bus with a local guide and a large group of people. As we drove around the city, we stopped at the important tourist locations and were able to get out, walk around, and take pictures. Our first stop was Westminster Abbey.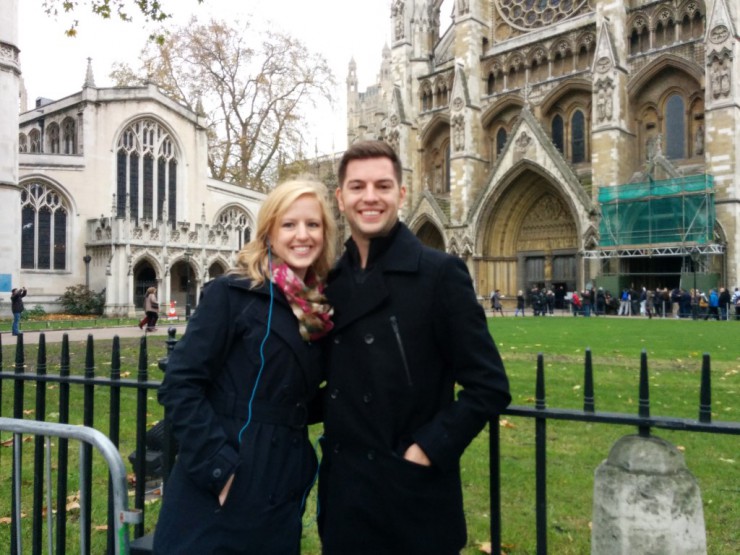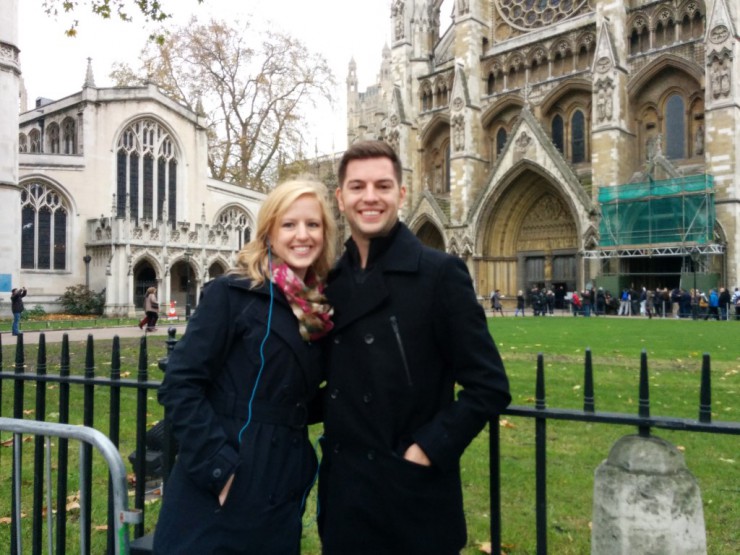 Westminster Abbey is a very notable Gothic church in Westminster, London that has housed many coronation ceremonies and Royal weddings.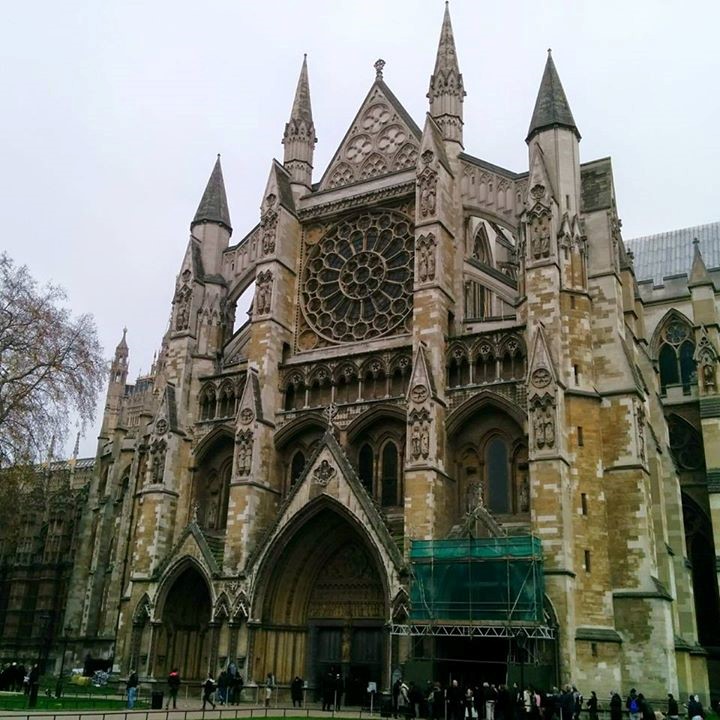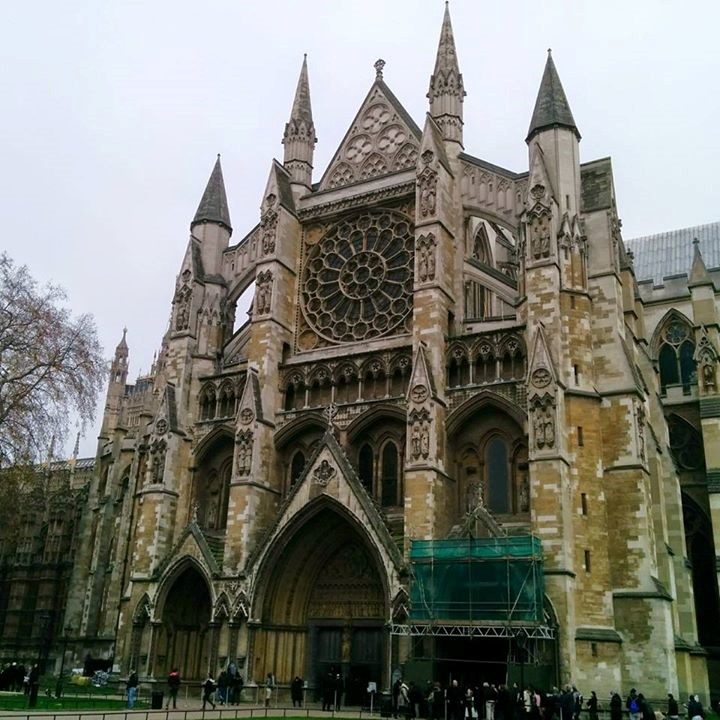 These are the doors that Prince William and Kate Middleton used to exit the church following their wedding in 2011.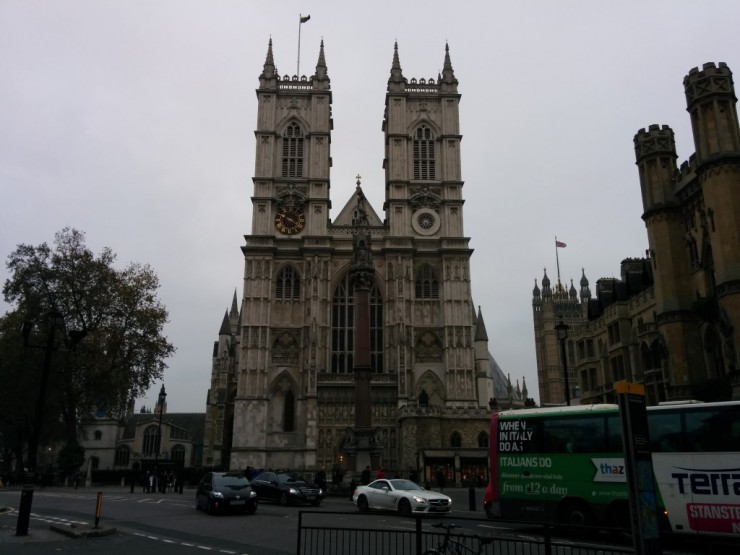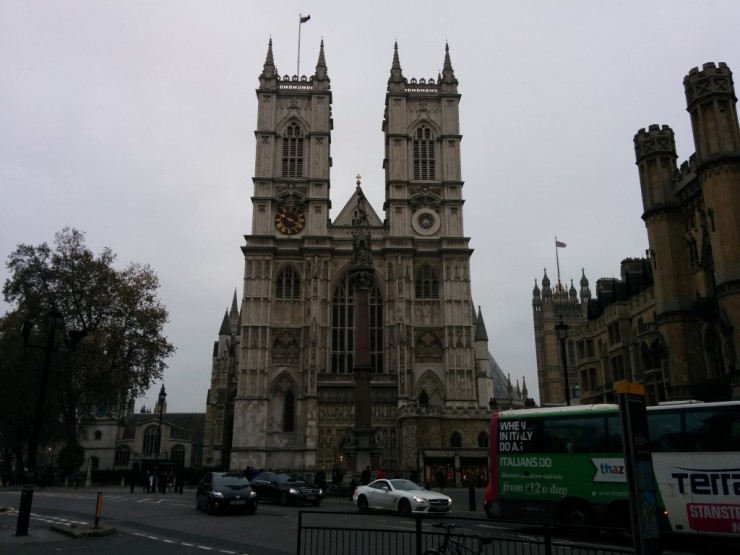 We then walked over to see Big Ben (the nickname for the bell within the tower) at the Palace of Westminster. The Palace of Westminster is also known as the Houses of Parliament because it's where the two Houses of Parliament in the United Kingdom (the House of Commons and the House of Lords) meet.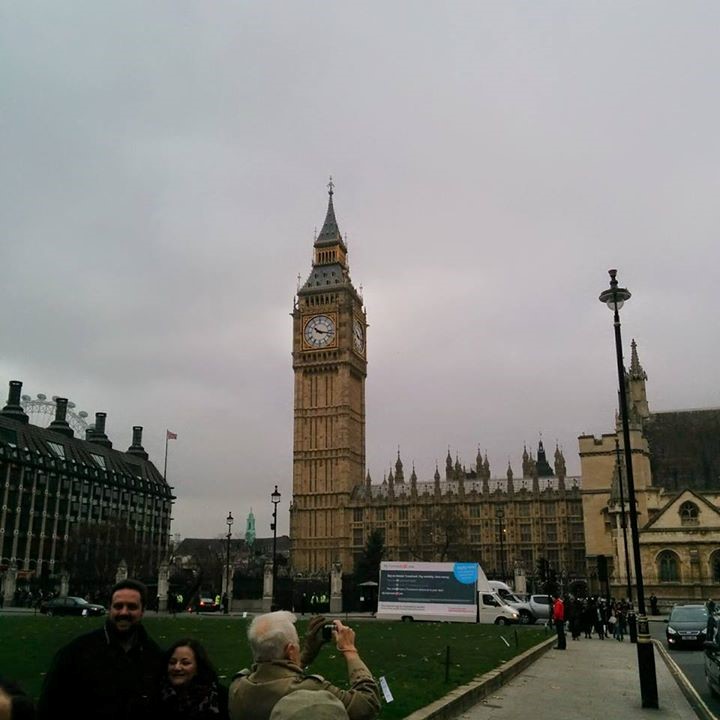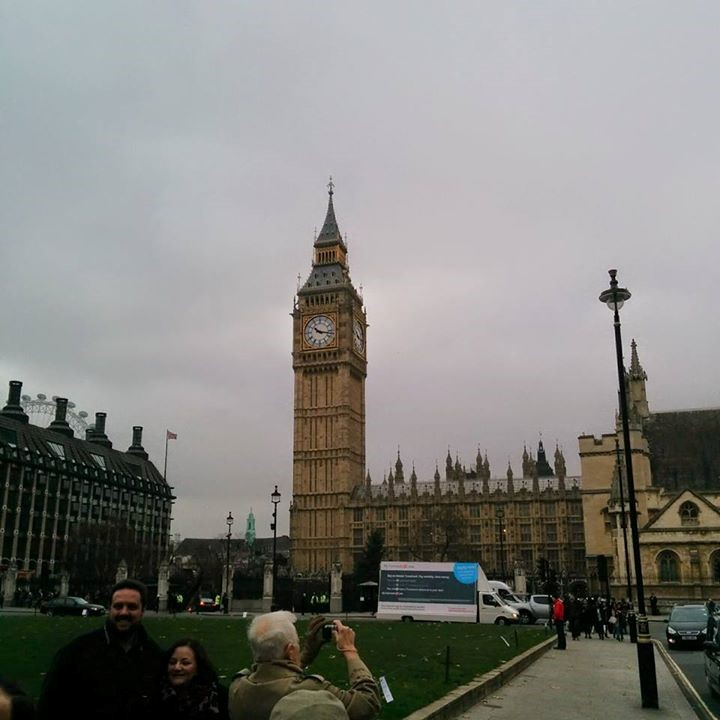 Our next stop was Buckingham Palace and as we were walking there, we were able see the start of the changing of the guard ceremony. The picture below shows the band who march with the New Guard from Wellington Barracks to Buckingham Palace.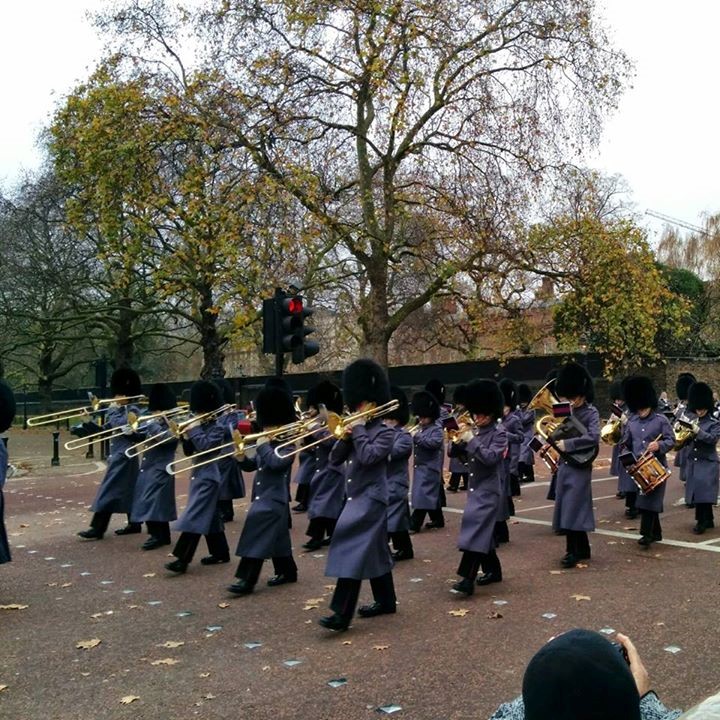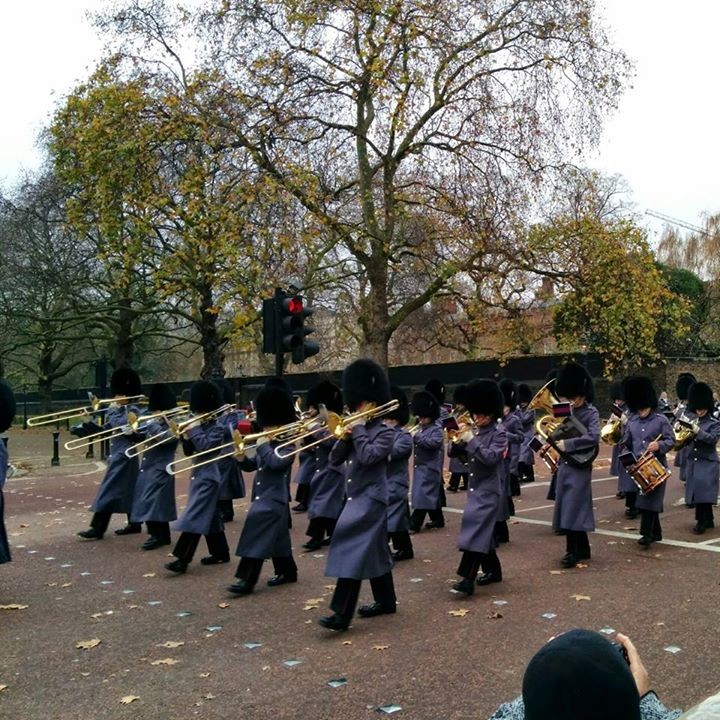 Once the New Guard arrives at Buckingham Palace, they exchange duty with the Old Guard and become The Queen's Guard until they are relieved of duty. This ceremony takes place daily at 11:30 am and lasts about 45 minutes.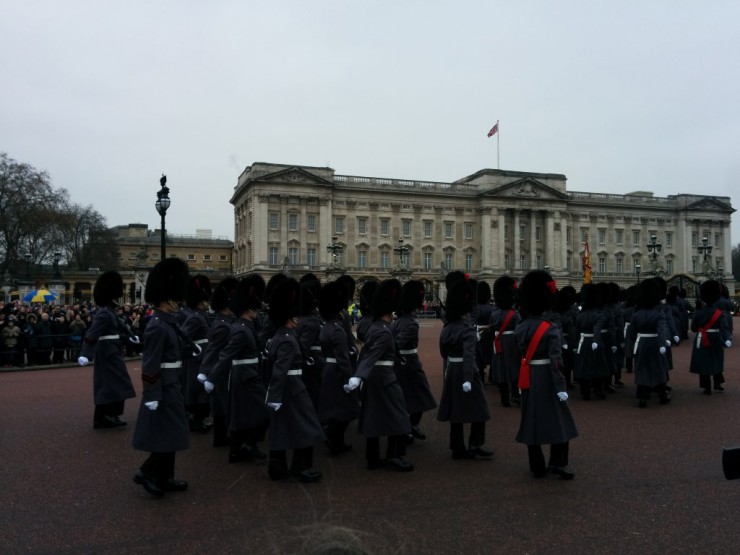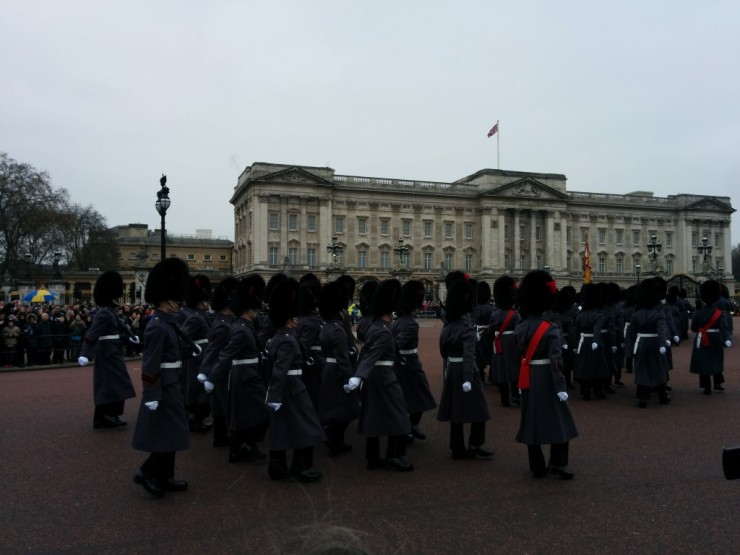 Below is a better picture of Buckingham Palace. It's hard to see in the picture, but the Union Flag is flying from the Palace, meaning the Queen was not in residence.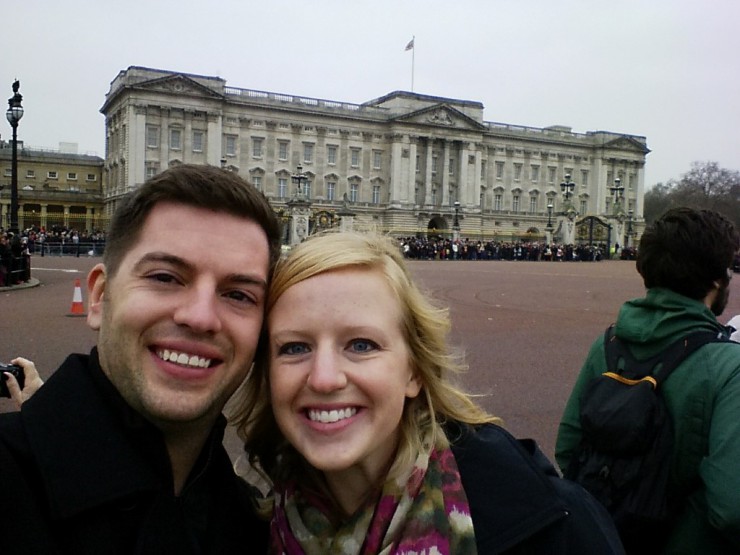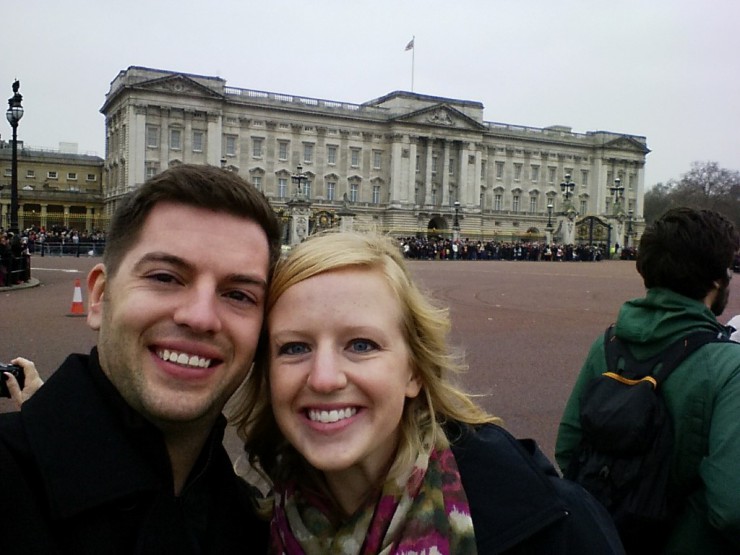 On our way back to the bus from Buckingham Palace, we stopped at this beautiful location which had a great view of the London Eye. It was so gloomy most of the time we were in London, but one positive thing about visiting in the winter was it was less busy and the crowds were very small!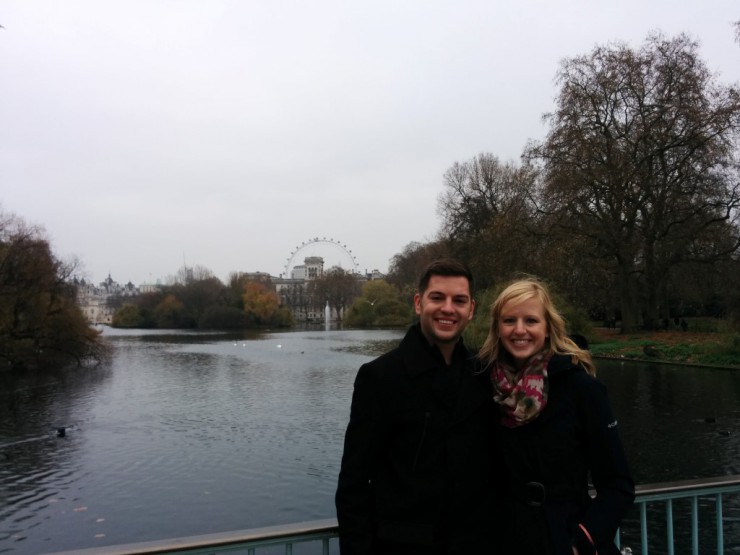 We finished our tour in Trafalgar Square and decided to grab lunch before exploring London on our own for the remainder of the day. Both my husband and I wanted to check out a legit English pub, so as soon as we saw The Lord Moon of the Mall, we knew we needed to stop.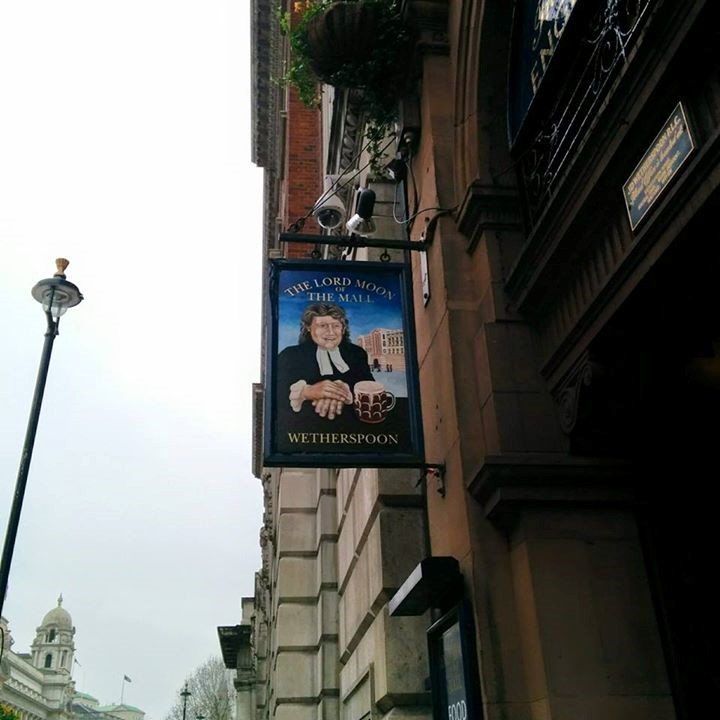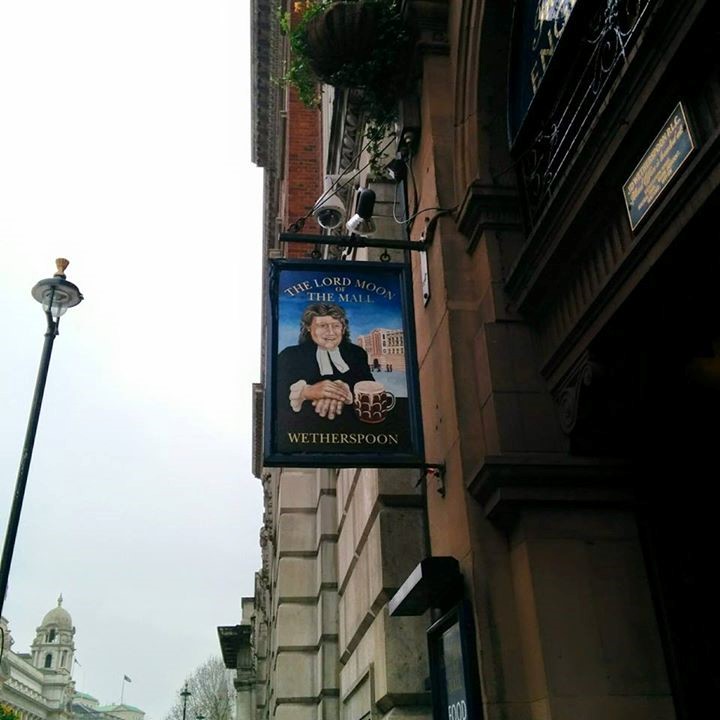 My husband and I have both read and thoroughly enjoyed the Cormoran Strike novels, The Cuckoo's Calling and The Silkworm, written by Robert Galbraith (aka J.K. Rowling). When we lived in St. Louis Park, MN we would often walk over to McCoy's, a pub style restaurant, and joke about ordering pints of Doombar, the beer that Cormoran Strike frequently drank in the book. We always thought the beer was made up, but it turns out it's real, and it was on tap at The Lord Moon of the Mall. I can't even begin to tell you how much we nerded out over this discovery; of course we both had to order a pint of Doombar.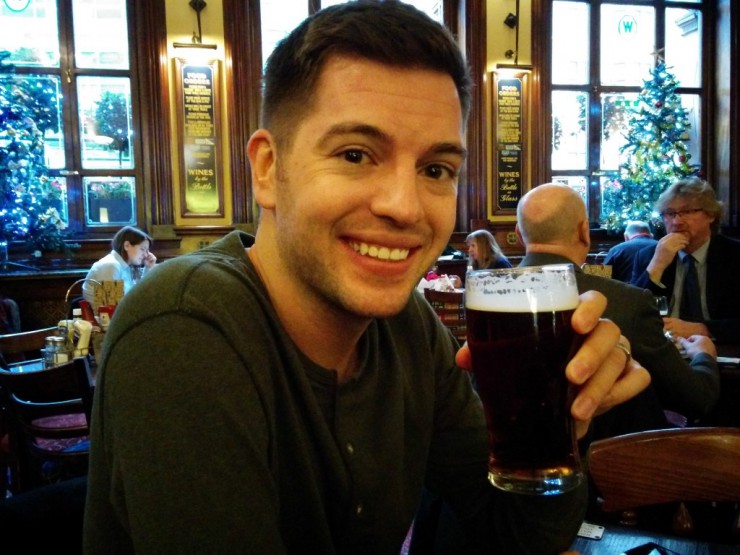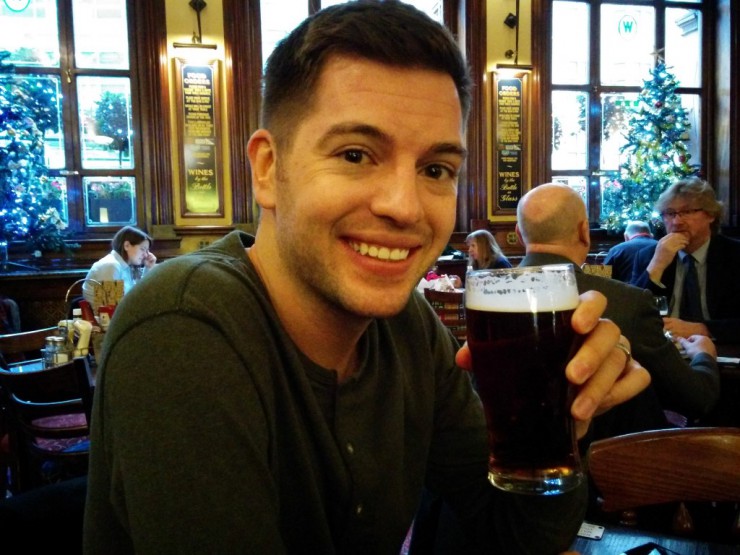 After lunch, we walked over to The National Gallery and looked at some incredible pieces of art. Below is one of Monet's collection of "Water Lillies."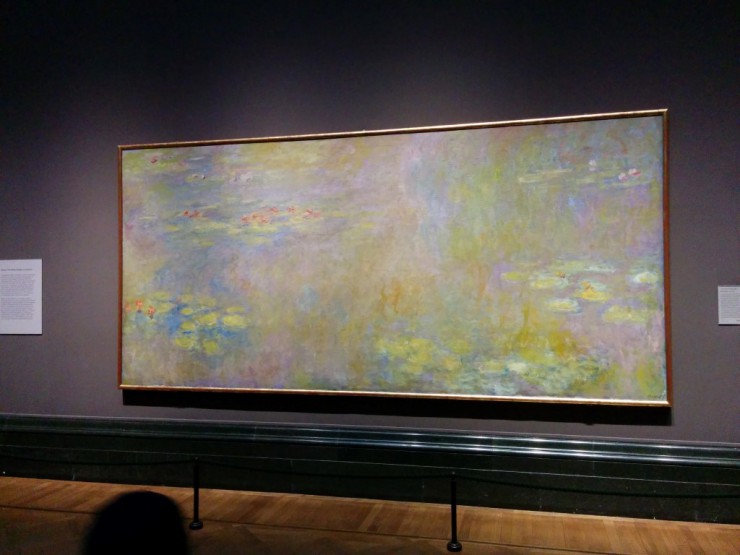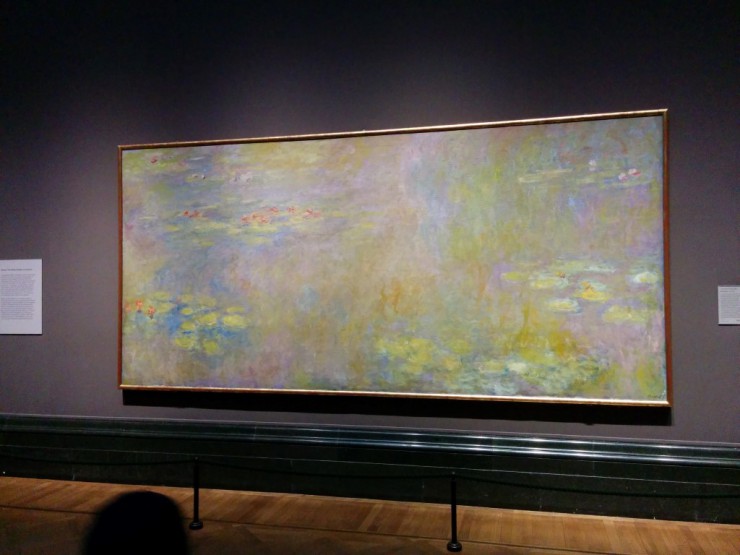 In addition to Monet, we gushed over original work done by Rembrandt, Da Vinci, Michelangelo, and Van Gogh. I had never been to an art gallery before, but I was very impressed and enjoyed our visit.
After The National Gallery, we took the Tube to the British Museum.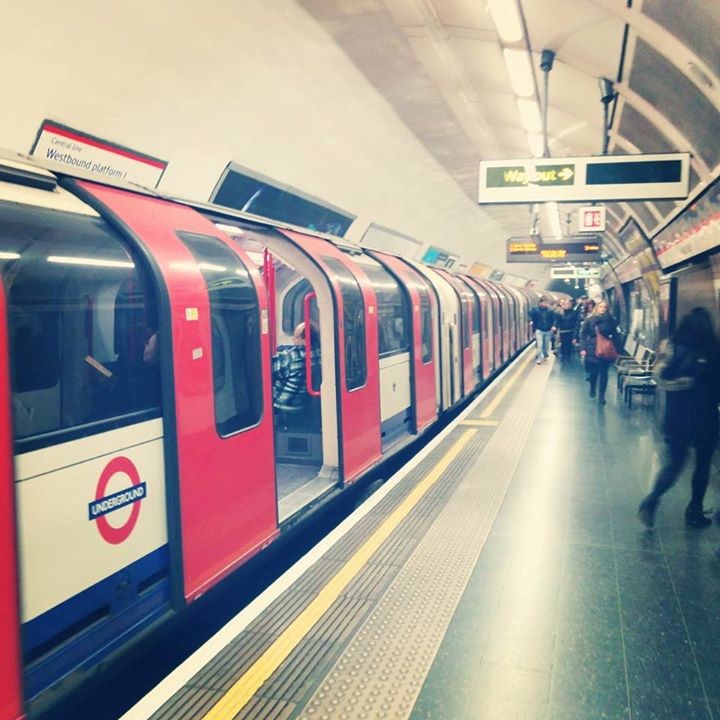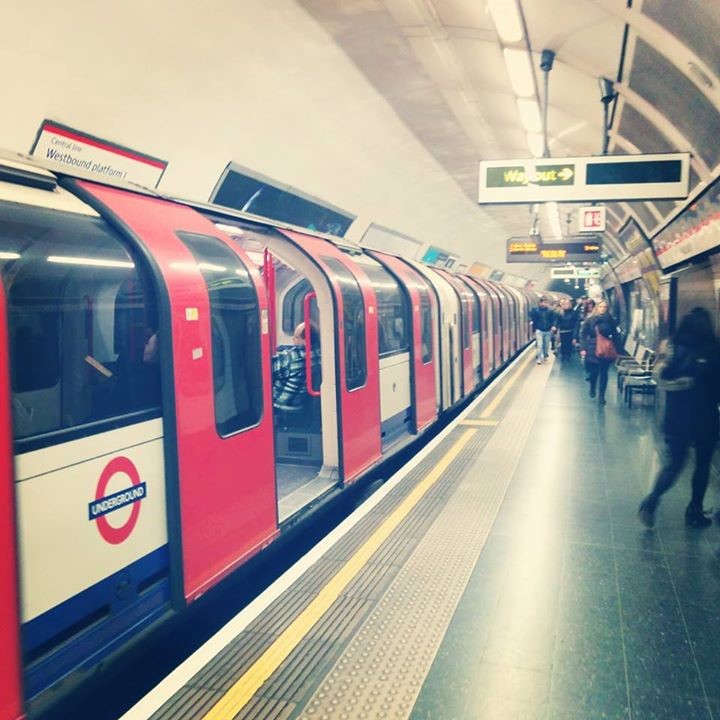 The British Museum is one of the largest museums of its kind, with over 8 million objects that portray human culture from the very beginning of time.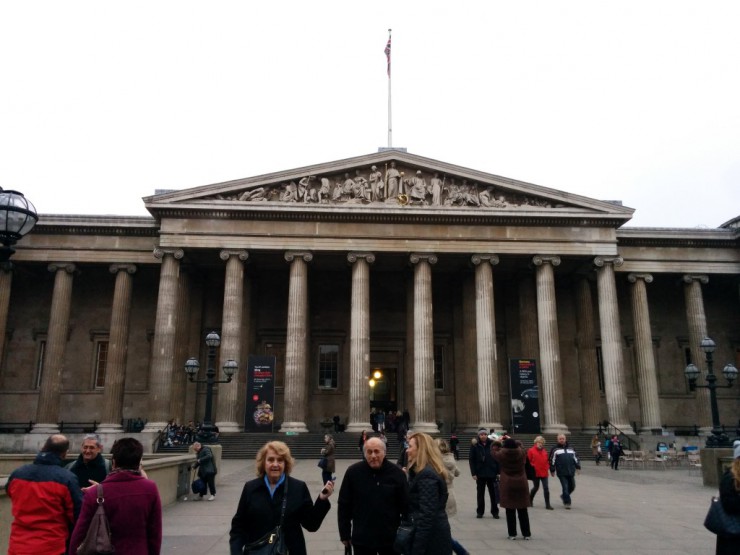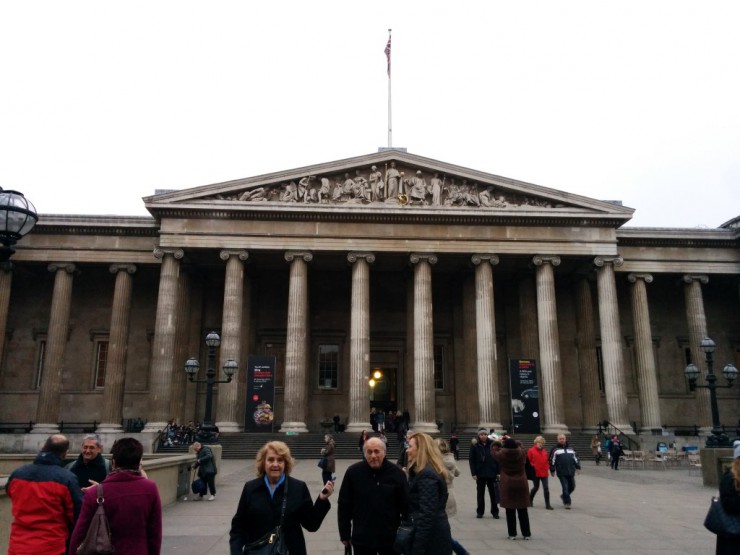 We saw so many awesome things as we walked around and explored, including ancient Greek artifacts, Egyptian sculptures, Roman exhibits and much more.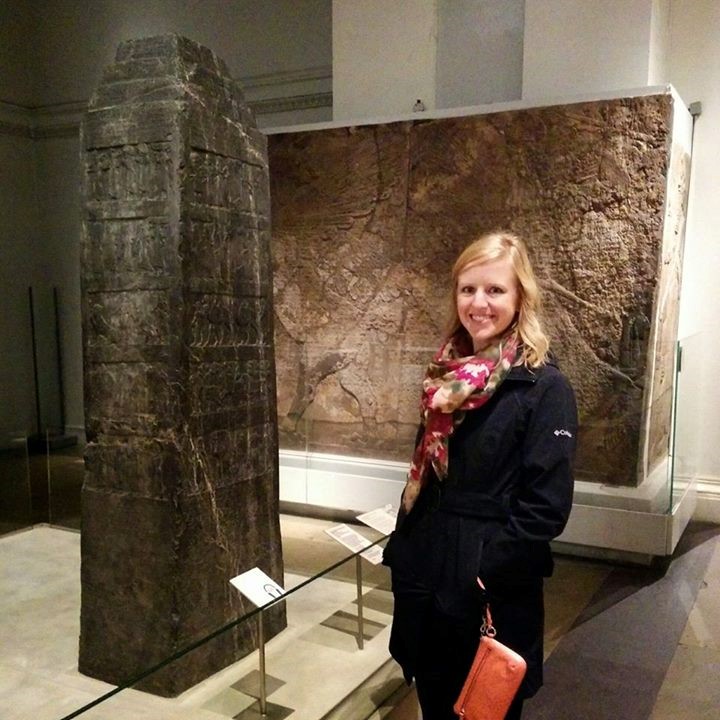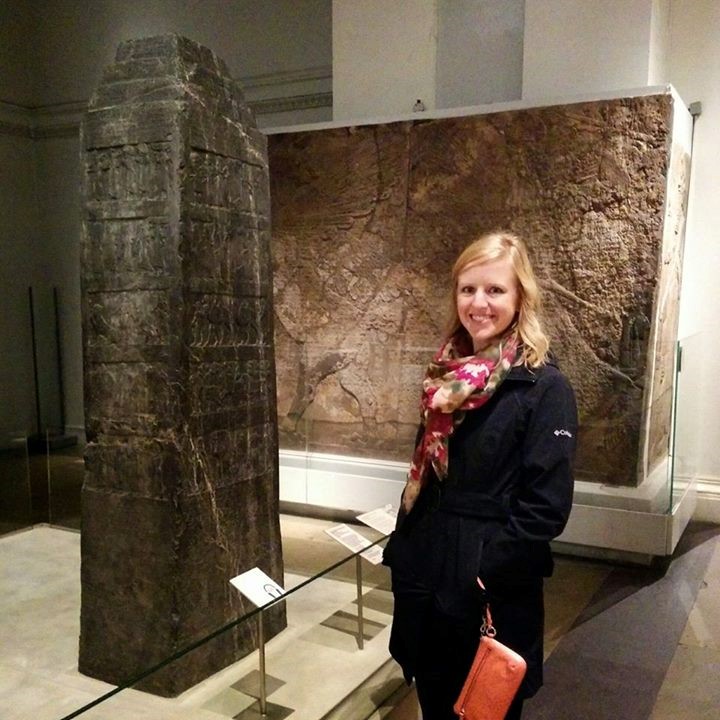 We even got to see the Rosetta Stone!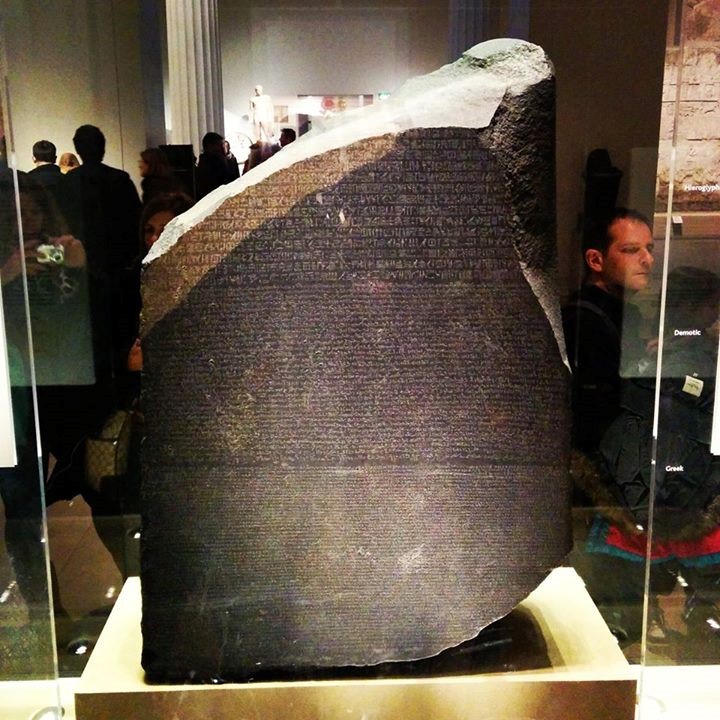 And my husband was particularly excited about seeing mummies.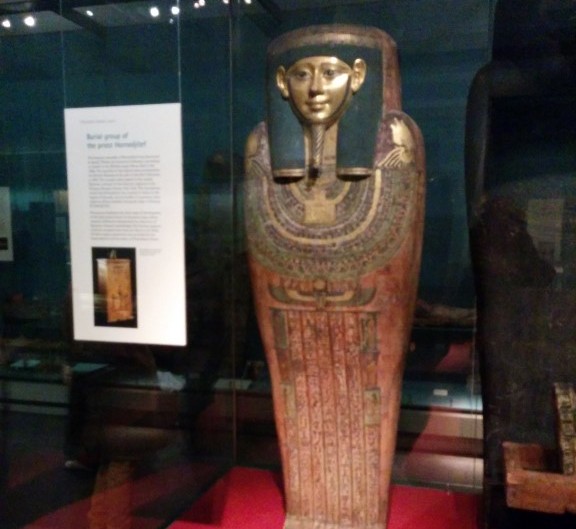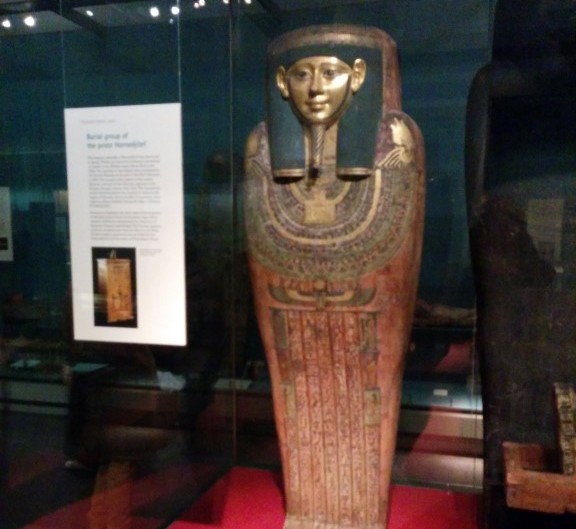 After a long day of touring London, we opted for a nice dinner at another restaurant close to our hotel called The Portman. A busier pub occupied the lower level of the restaurant, but the upper floor was quiet and exactly what we were in the mood for.
I had a very tasty mushroom soup with truffle oil and indulged in the sticky toffee sponge cake with caramel and ice cream for dessert. It came highly recommended by our waitress and reminded me of my homemade caramel pull aparts. It was a great way to end our last night in London.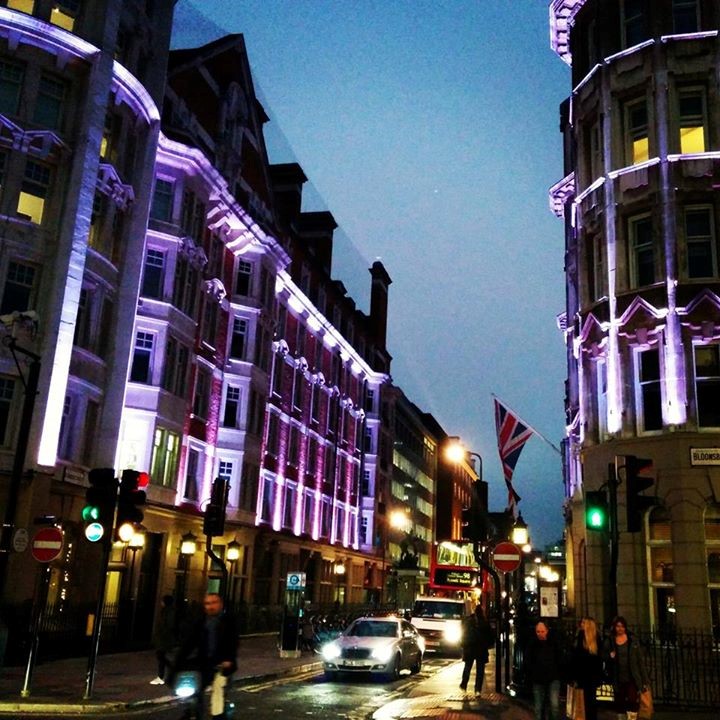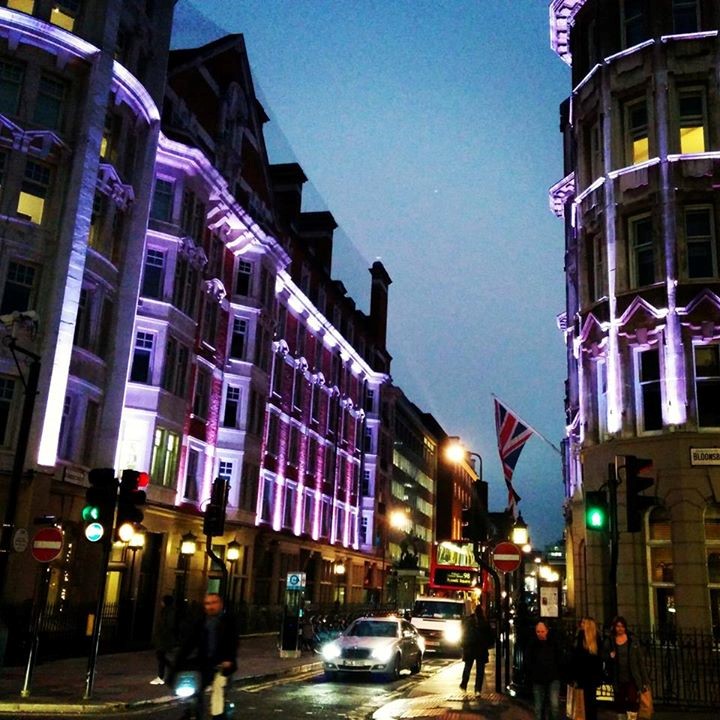 The next morning we met our Trafalgar travel director in the hotel lobby, got on a bus and traveled to the train station, where we boarded the train to Brussels. In Brussels, we would board the coach bus that would transport us on the remainder of our journey through Europe.
My husband and I were both impressed with the train system in London; we commented several times how much we wished we had something similar in the States.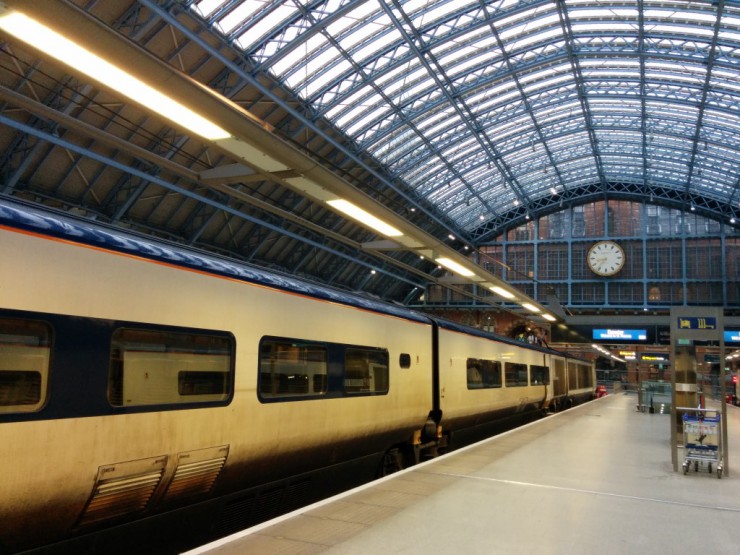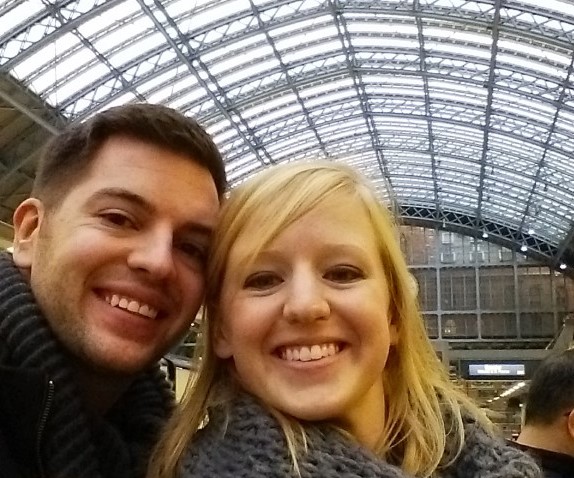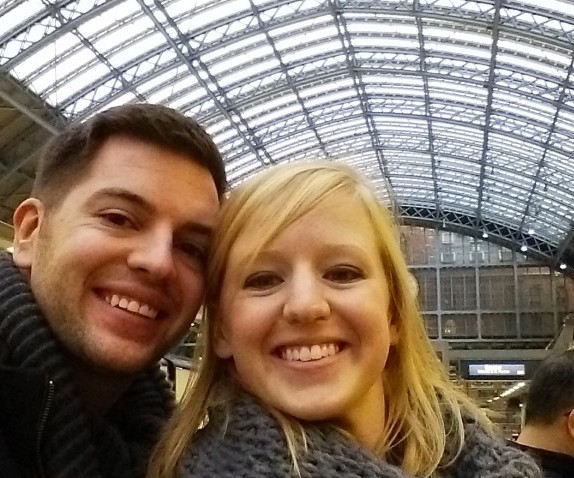 We rode the train through the Chunnel and reached speeds up to 183 mph. My husband insisted on checking our speed during the three-hour ride. 🙂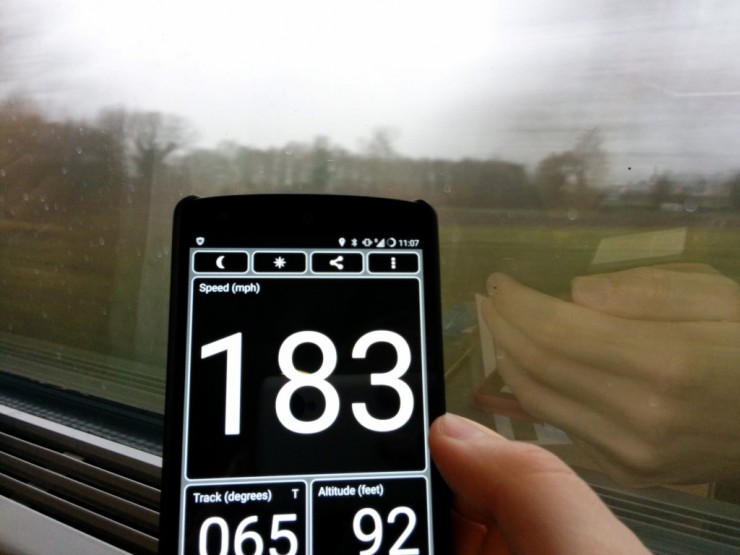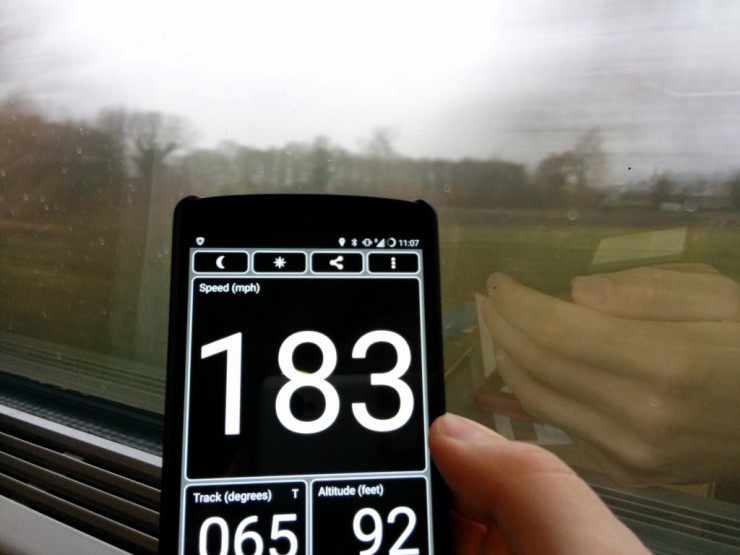 Although I was sad to leave London, I was super excited to see more of Europe and to begin the crazy whirlwind of a trip we signed up for!
Check back soon for more updates on the remainder of our European adventure!
Feature image credit: Trafalgar