Last week I stopped by one of my favorite little spots for lunch near my office in Belltown called Dahlia Bakery. It's a Tom Douglas restaurant that focuses on breads and pastries, but they also have a small breakfast and lunch menu, consisting of different sandwiches, wraps, soups, and salads. My go-to lunch from here is Tom's tomato soup and fresh baked bread. I wouldn't call it the most budget friendly place and they don't offer any seating inside the space, but the food is quite good! Plus they sell some of my favorite Mediterranean style pita spreads from Lola, another Tom Douglas restaurant in town that has the best halloumi cheese skewers.
Anyways, I was about to order my usual tomato soup when I saw a harvest salad on their menu that piqued my interested. It was filled with a lot of my favorite things, including delicata squash (my new favorite vegetable) and goat cheese, so I changed my mind last minute and tried it. I'm glad I did because it was one of the best salads I've had in a while. I knew I had to recreate it at home.
This salad is really easy to assemble and the best part is you can vary the ingredients per your liking. I mimicked my favorite parts of the salad I ordered and modified a few ingredients as well.
Harvest Salad Recipe
To begin, add a healthy mixture of arugula and spinach to a large bowl.
Add in the cooked, sliced chicken breast. I cooked my chicken breasts on the grill, but feel free to cook them per your preferred method.
Toss in the cooked, sliced delicata squash. If you're unsure how to cook delicata squash, slice it in half lengthwise, drizzle a little olive oil on the inside, then place face down (skin is facing up) on a lined baking sheet. One helpful tip: I really love using these pre-cut parchment paper sheets – they are hassle free and they make cleanup so easy. Roast the squash at 400ºF for about 30-35 minutes, until soft and tender.
Mix in cooked wild rice (I love cooking mine in my Zojirushi rice cooker), then add in dried cranberries and slivered, toasted almonds.
Side note: to toast almonds, place them on a baking sheet then transfer to a 350ºF oven for about 5 minutes. Keep a close eye on them so they don't burn!
Top the salad with goat cheese crumbles, then drizzle in apple cider vinaigrette and toss gently. I tried a new recipe for apple cider vinaigrette and found it to be quite tasty; I'll definitely use it again in the future!
Serve immediately and enjoy!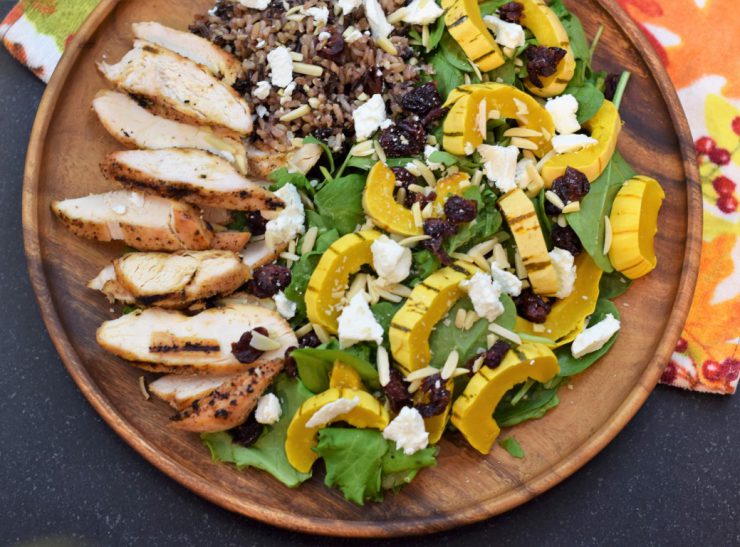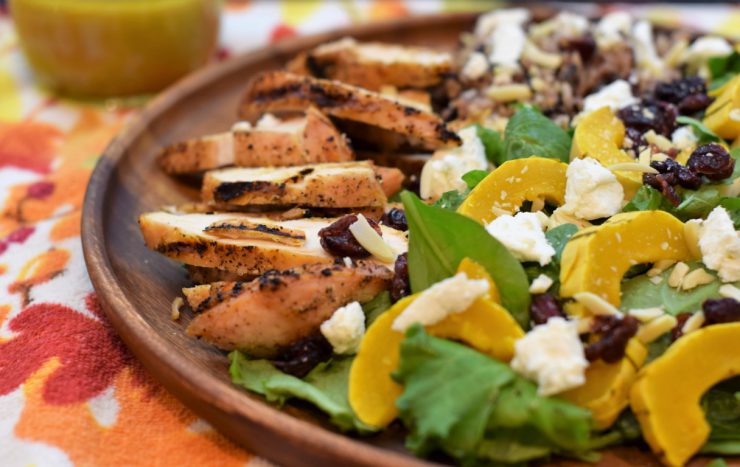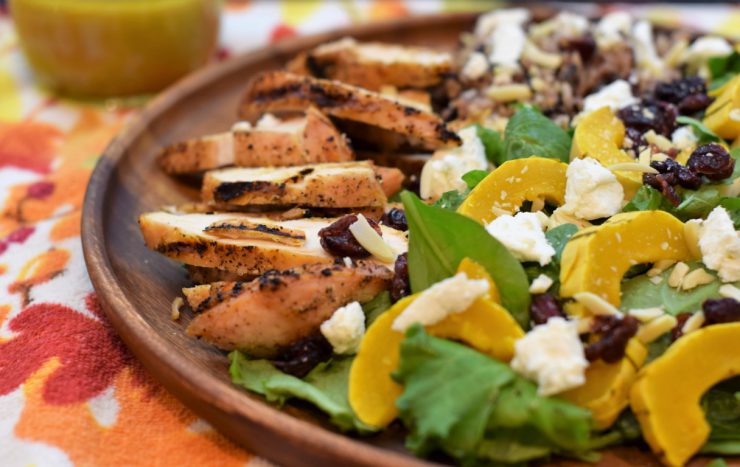 Harvest Salad with Delicata Squash
2018-11-19 21:57:38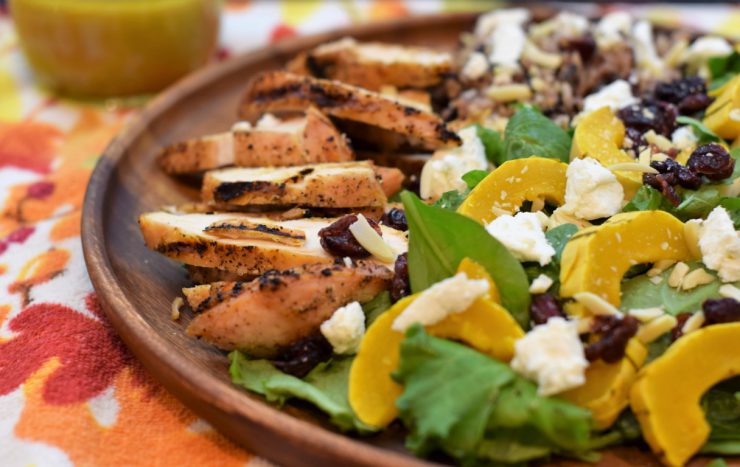 Serves 4
Ingredients
8 c spinach and arugula
2 chicken breasts, grilled and sliced
1 delicata squash, roasted and sliced
1 c wild rice, cooked
1/2 c dried cranberries
1/4 c slivered almonds, toasted
1/2 c goat cheese, crumbled
Apple cider vinaigrette
Instructions
In a large bowl, add mixture of spinach and arugula.
Add in sliced chicken breast and delicata squash.
Add wild rice, dried cranberries, toasted almonds, and top with goat cheese.
Drizzle with apple cider vinaigrette and gently toss to combine.
Serve immediately.
Notes
This recipe can be made in advance, but hold off on adding dressing until right before serving.
Decanteria https://decanteria.com/