Most recipes I have seen and used for stuffed pasta, whether lasagna rolls, manicotti, or shells, call for ricotta cheese. I didn't have any ricotta on hand the last time I made stuffed shells so I decided to improvise and use cottage cheese.
I was curious about how it would affect the texture and consistency of the filling, but I was pleasantly surprised with the result. The cottage cheese acted as a great substitute; the difference in texture was negligible and the taste equally compared to the shells made with ricotta. I definitely will be using cottage cheese in place of ricotta again.
Recipe Instructions
I like to cook the jumbo shells first and allow ample time for them to cool so they are easier to handle when stuffing them.
Bring a pot of salted water to boil, add 16 shells and cook until al dente; you want the noodles to be just shy of fully cooked. Drain the shells and set them aside to cool. Toss them with a drizzle of olive oil to keep them from sticking together.
Preheat the oven to 350°F.
In a large saucepan, heat 2 tablespoons of olive oil over medium heat. Dice one half of an onion and add it to the pan, along with 1 minced garlic clove. Saute until soft, then add 1 jar of spaghetti sauce and stir until combined. Once the sauce is heated through, remove from the heat and set aside.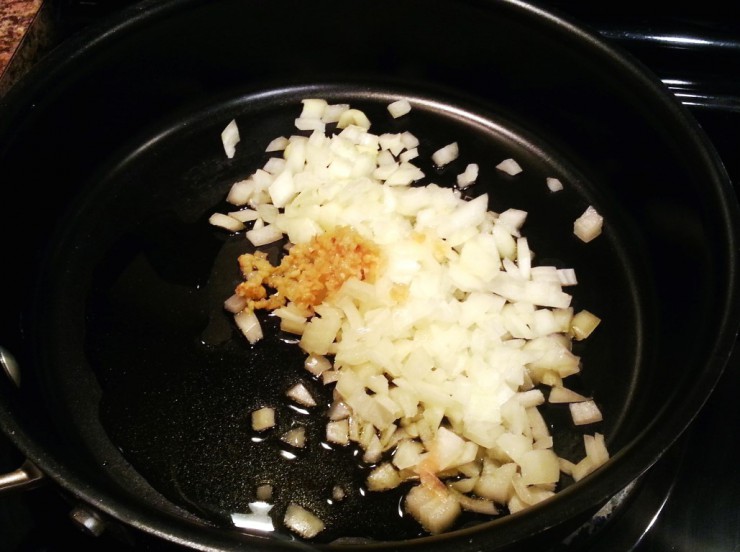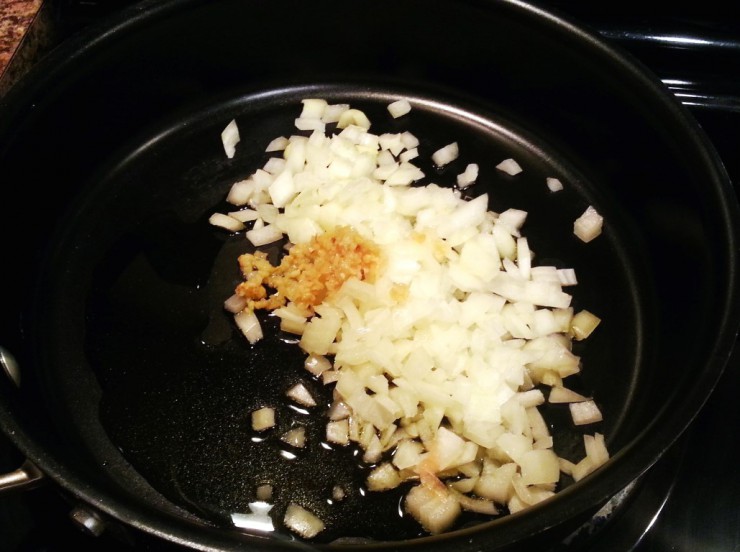 In a small bowl, combine 2 cups of cottage cheese and 1 egg. Stir in 1/4 cup of shredded Parmesan cheese and 1/2 cup of shredded mozzarella cheese. Chiffonade 4 basil leaves and add to the mixture. Season with salt and pepper.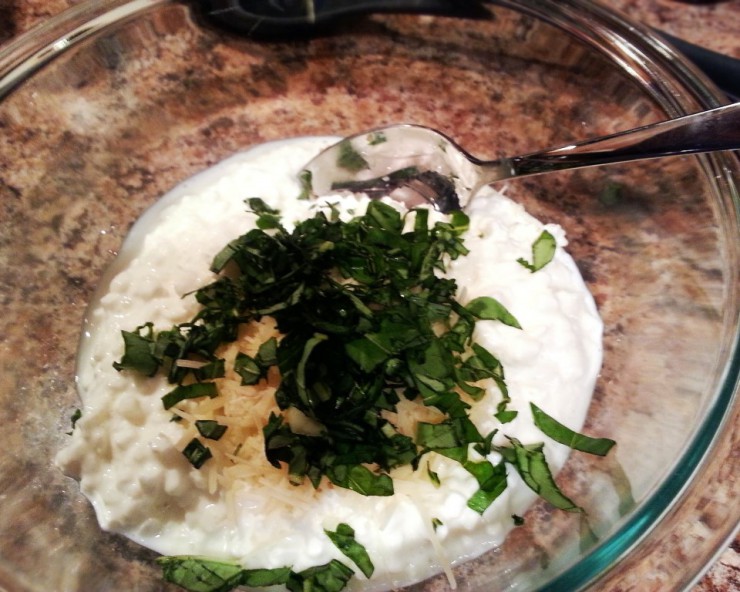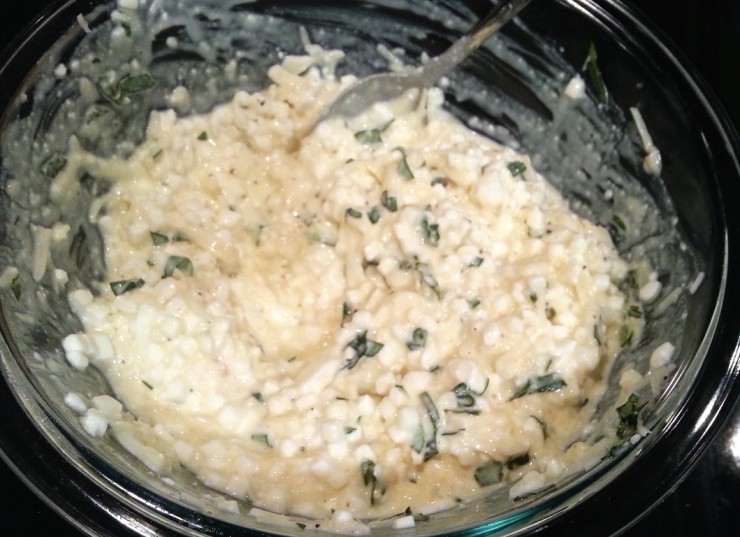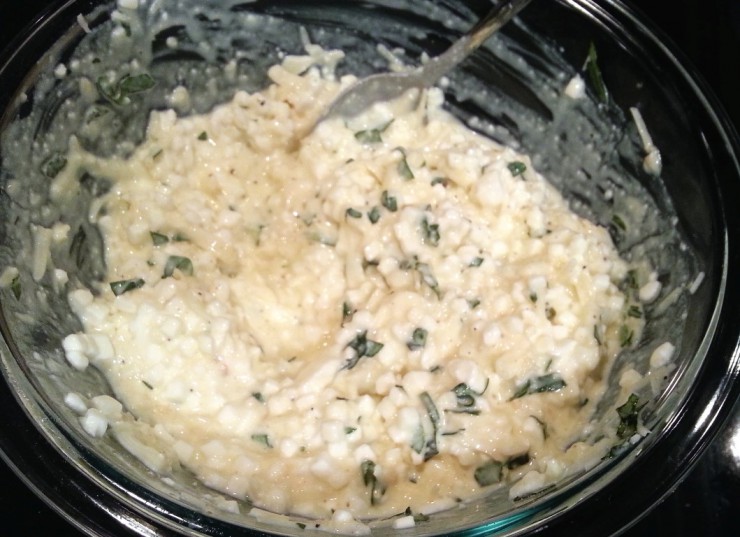 Pour a thin layer of the spaghetti sauce on the bottom of a 9×13 pan.
Using a spoon, scoop the cottage cheese mixture into each shell, being careful not to over stuff them. Place each stuffed shell seam side up in the pan lined with sauce.
When all of the shells are stuffed and placed in the pan, top them with the remainder of the spaghetti sauce mixture and the Parmesan cheese.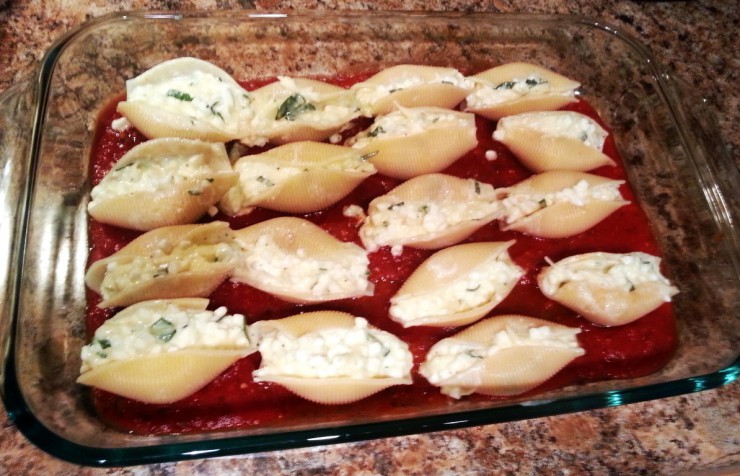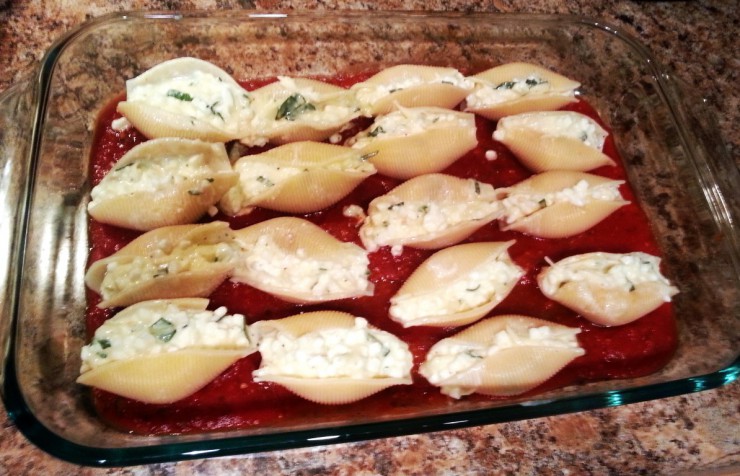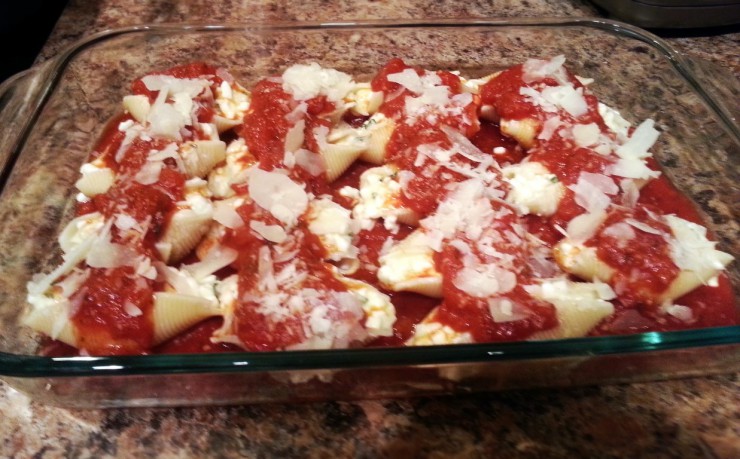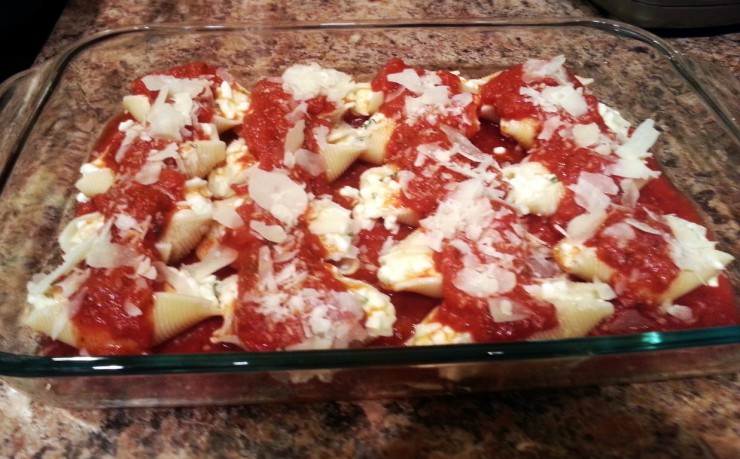 Bake for 30 minutes, uncovered. Let the shells stand for 5 minutes before plating.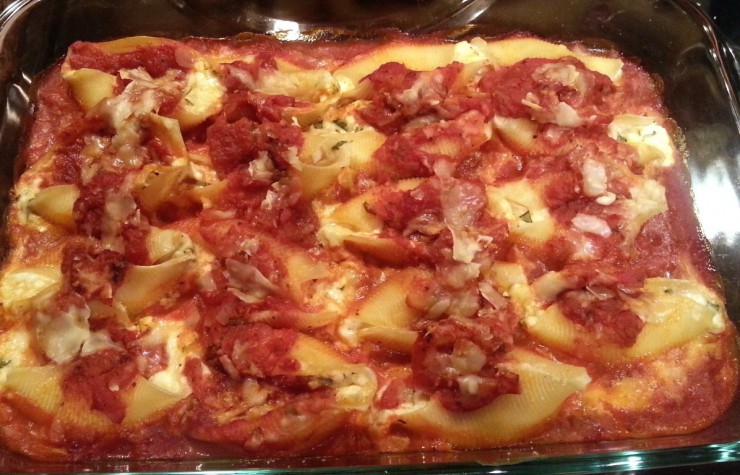 Complete this Italian style meal by serving these shells with a side salad and some homemade garlic bread!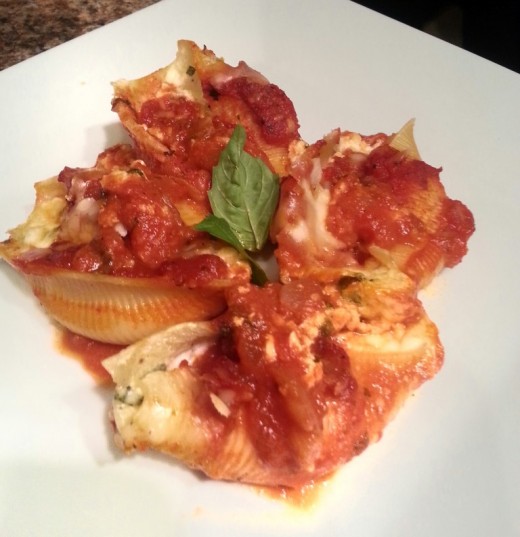 Cheese Stuffed Shells
2013-04-22 10:45:31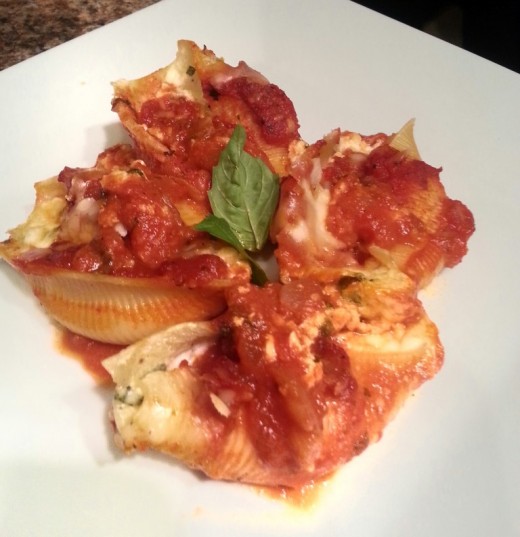 Serves 4
Ingredients
16 jumbo shells
2 tbsp olive oil
1/2 onion, diced
1 garlic clove, minced
1 jar spaghetti sauce
2 c cottage cheese
1 egg
1/2 c shredded Parmesan, separated
1/2 c shredded mozzarella
4 basil leaves, chiffonade
Salt, pepper
Instructions
Cook pasta accordingly to package directions in salted water until al dente. Drain and let cool.
Preheat oven to 350°F.
In a saucepan, saute onion and garlic in olive oil over medium heat until soft. Add spaghetti sauce and heat though. Remove from heat and side aside.
In a small bowl, combine cottage cheese and egg. Stir in 1/4 cup of the Parmesan cheese, mozzarella cheese, basil, salt, and pepper.
Stuff each jumbo shell with the cheese mixture. Pour a layer of the sauce mixture in the bottom of a 9x13 pan. Lay shells on top of sauce mixture seam side up. Top shells with remainder of sauce mixture and Parmesan cheese.
Bake for 30 minutes, uncovered. Let stand for 5 minutes and serve.
Decanteria https://decanteria.com/